Keeping the economy competitive
If the costs for housing, food and energy are very high, even enormously high wages are hardly enough to live on. A vicious circle of economic decline.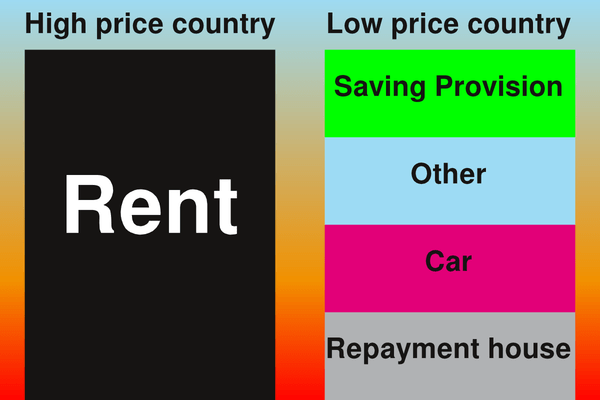 In mid-June 2020, the market capitalisation of Apple alone is higher than that of all DAX companies combined. But California is also home to many other high-tech companies.


| | | |
| --- | --- | --- |
| | Germany | California |
| Population | 83.02 million | 39.54 million |
| Area | 357,582 km² | 423,970 km² |
| Area per inhabitant | 4,307 m² | 10,723 m² |
| GDP | $3,863 billion | $3,200 billion |
| GDP per inhabitant | US$ 46,653 | US$ 80,563 |
| Electricity consumption | 558 TWh | 260 TWh |
| Electricity consumption per inhabitant | 6,721 kWh | 6,576 kWh |


Much more GDP per inhabitant, much more area per inhabitant. The standard of living should be fantastic! But how do you pay with US$ 12 minimum wage the US$ 2.400 rent for a 40 m² apartment in San Francisco? According to various calculations, in California are 13.3% or 19% below the poverty line. Living in a mobile home, a dream for 4 weeks vacation, a nightmare for 365 days a year. Who cannot afford a motorhome, lives in a tent.

Real estate usury instead of standard of living



Supply and demand determine the price. Artificial scarcity of building land by the politicians creates an complicity to rob the population by extreme housing costs. High property prices set off a price spiral that ends with the collapse of the system. If you have to spend insane amounts of money on housing, there is no money for the climate protection. It is therefore also a climate crime.



Sufficient area for US$ 10/m² buildable only with climate protection superiority houses. Many barracks are demolished and replaced with climate protection superiority houses. Barracks? According to Salzburg building standards, most houses in the USA are barracks. 10 million houses, 400 GW photovoltaic, 900 GWh electricity storage, 600 TWh annual production, 400 km² Aeroponic Vertical Gardening increase food production.

That would be paradise California, what we see now is hell.